Related Searches - UFO, ufo, ufo sightings, ufo siting,recent ufo sightings, ufo video,ufo reports, ufo pictures,ufo evidence.

I have found this recent interesting UFO sightings instance on UFO Casebook
The SUN Newspaper recently ran a UFO story with the inspired(?) headline, "Oooh arrrr not alone anymore." The story was as follows:

THIS stunning photo of a UFO over Cornwall was last night hailed by experts as one of the best ever taken in Britain . KELVIN took his picture at 3.31pm on December 29, with a Nikon D80 Digital SLR on automatic.

The classic flying saucer shape is seen above two ships. And UFO watchers believe it could be proof we are NOT alone. Kelvin Barbery snapped the mystery object from a coastal path between Swanpool and Maenporth, near Falmouth . In a weird twist, Kelvin, 55, did not even see the UFO at the time.

He thought he was just taking a sea view — but when he loaded the digital camera card on to his computer, the round metallic "craft" was in the centre of the shot, about two miles away.

Kelvin, a facilities manager for schools, said: "There were a couple of tankers out in the bay and I thought that it made a nice shot.




"There was nothing in view and certainly no fault on the camera. When I got home I couldn't believe what I had. I thought, 'Wow, where did that come from?' I'm not the sort to believe in UFOs — now I'm not so sure."

Nick Pope, one of Britain 's foremost UFO experts, said the photo was one of the best he had seen, Nick, formerly the official Ministry of Defence UFO analyst, said: "If I was still there I'd be looking at this very closely. The object looks structured, symmetrical and metallic. This man has caught something very interesting indeed."




Michael Soper, of the Contact International UFO group, agreed: "This does appear genuine. Digital photos can be doctored but everything about it appears consistent."



--------------------------



DrDil
Global Moderator's
Quote:
To be honest, I find its strange that this image is being touted as, "One of the best" as even if you squint and tilt your head slightly it appears to show a gull, and regarding, "The object looks structured, symmetrical and metallic" perhaps this was a quick glance that the former MOD, "Analyst" Nick Pope cast over the image as I personally fail to see any of the features described.
Eye of the beholder?





It seems that there really is no happy medium with the tabloids, the UFO subject is either ridiculed and mocked, or blatantly dubious images are touted as absolute proof, is it any wonder that the uninformed public weigh and measure the subject and more often than not find it wanting?





Thanks to UK UFO investigator/researcher Jenny Randles for the lead and I believe Jenny also sums up the widely perceived problems regarding the MoD, also alluding to the reason why the media jump on sightings such as this (with seemingly prosaic explanations) and perhaps more importantly why prominent UFOlogists appear to pander to their whimsical and fleeting interest (when not misquoted).





"My bet is they (the MoD) will turn out to have been just as hopeless as the rest of us as at this tricky business. Indeed I suspect that you need many years of battle hardened study of the data before you see the basic issues involved and can talk yourself out of the romanticism that surrounds the evidence. Especially amidst the siren calls of the media who mostly only want to hear you say exciting stuff not find explanations.





Nobody working with the MoD had this depth of continuity to get to the point where they saw the subject in all of its complexity (and at heart, its simplicity)."





--------------------------



Also, Frank Warren concluded the same (as has most independent analysis) as did the majority of his readers on his Blogspot: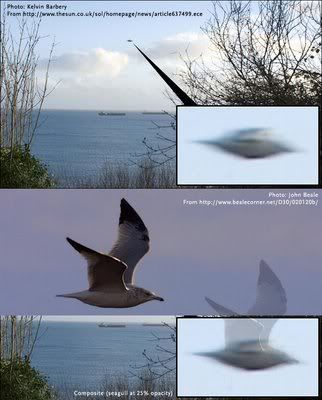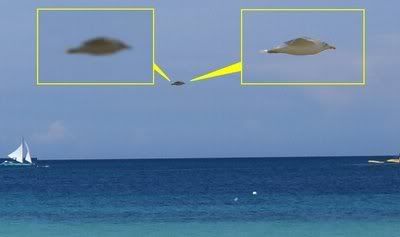 http://frankwarren.blogspot.com/2008/01/cornwall-ufo-its-bird-xxxx-it.html

http://frankwarren.blogspot.com/2008/01/another-bird-photographed-another-ufo.html

Also, surprisingly most of the SUN readers comments reflect the same.